---
{{item.currency}}
{{pricing}}
---
---
{{item.currency}}
{{pricing}}
{{item.currency}} {{item.normalPrice}}
---
{{item.currency}} {{pricing}} - Out of Stock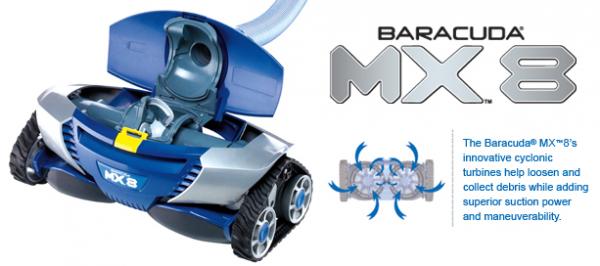 This Automatic poolcleaner from Zodiac is their latest Baracuda model and does not work with a diaphragm. The combi unit is a complete unit ready to be installed. For more detail contact your nearest Elene's Pools branch.
Zodiac, the global leader in pool cleaning solutions, is once again igniting the South African market with the brand new Baracuda MX8.
This mechanical suction pool cleaner, with its innovative X-Drive Technology, begins a new era for Zodiac autmatic pool cleaners.
An engineering and design masterpiece, the MX8 performs in a class of its own. With the ability to move in any direction, this cleaner boasts market leading coverage of the pool floor. Furthermore it utilises Cyclonic Suction ensuring a wider cleaning path and maximum debris pick-up.
Pool owners will be blown away by its performance.