Blog
2015-07-10
DOLPHIN ROBOTIC POOL CLEANERS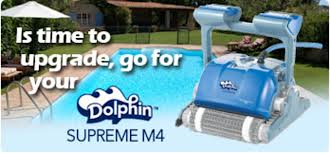 Elene's Pools is a Dolphin Supreme Dealer
All Elene's Pools shops will always give you the best deal on a Dolpin Robotic Poolcleaner. Give us a call NOW!! 0126536290 and speak to Sharen to book a FREE demo at your pool. Yes FREE demo!!! Also ask her about the M3 and M5.
About the M4:
Step-up to a new experience with this wall-climbing robotic pool cleaner, recommended for pools up to 12m in lenght. The cost-effective way to ensure entire pool cleaning, including the floor, walls and waterline.
A 2.5 hours cycle time and 18m cable. With the swivel on the cable it will prevent the cable from tangling. The weight is 10kg and the suction rate is 17m3 per hour. Satisfaction with a warranty of 36 months on all parts. How unbelievable is that.
Well, there is alot more that you need to know about this great pool cleaner. Phone a Elene's Pools now and book a demo. Safe time and electricity...
More about filtration in my next blog.
Keep well....
Elene